It's that time of year where every weekend there's awesome events all around Nashville, mostly outdoors. Whether you live in town or just passing through, here are some of the many cool events worth checking out.
A charity show held annually at the Ryman, this concert raises money for the Second Harvest Food Bank of Middle Tennessee. Jake Owen will headline this acoustic benefit show with openers Jillian Jacqueline, Morgan Wallen, and Mason Ramsey (the yodeling Walmart kid).
Okay, this one's technically not in Nashville. This famous music fest is held in Manchester, TN, an hour southeast of Music City. But many people stay in Nashville and travel to the festival throughout it's 4 days, so I'm gonna count it. And with Eminem, the Killers, and Muse headlining and so many incredible artists playing, like Anderson Paak., Bon Iver, and Sturgill Simpson, this is a festival that's always worth the price of admission.
If the music at Bonnaroo doesn't appeal to you, CMA Music Fest features a staggering 11 stages in downtown Nashville with performances by over 1,100 musicians. Daytime outdoor shows are FREE. Attend this festival and you will truly understand why Nashville holds the title of Music City.
At the American Artisan Festival, craftspeople and artists from around the country will gather on the front lawn of Centennial Park to display their work. There'll be painters, leather workers, jewelry makers, and many more incredible creators. And it wouldn't be a proper Nashville gathering without some live music! There'll be different bands playing on the main stage throughout the three days, conveniently located near the food and bar tents.
Before Lower Broadway became synonymous with Nashville's music scene, there was Jefferson Street. From the 40's to the 60's, the street became frequent stops for great African American music acts like Jimi Hendrix, Ray Charles, and Little Richard, and was the site for many civil rights sit-ins.  Jefferson Street was the hub of African American culture in Nashville. But in the 60's, it was tragically bisected by the construction of the I-40 highway, closing businesses and cutting off traffic to many others. The once-great hub of jazz and R&B died away. But in 2000, JUMP (the Jefferson Street United Merchant's Partnership), a collective of over 180 business and individual members, worked to revitalize the street with a day long jazz and R&B festival, attracting people back to it's businesses. Featuring great local musicians and businesses, this is North Nashville's largest public community music festival. Celebrate Nashville's great African American history at this annual gathering.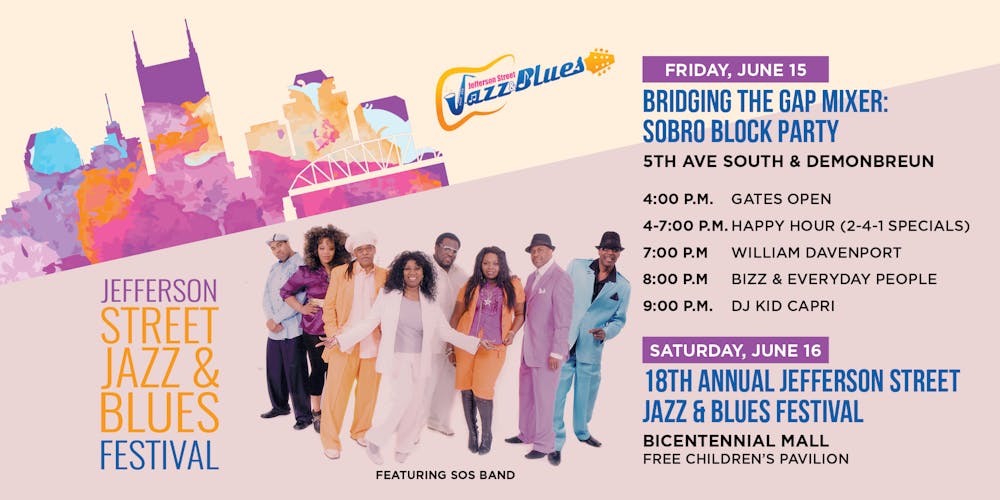 One of Nashville's largest food and drink festivals, the Taste of Music City Fest is an all-inclusive food tasting event. Pay for one ticket and get samples of some of Nashville's best food and cocktails. VIP ticket holders will also get to attend a cooking demonstration by a Spring Mountain Farms chef. Some featured chefs include Edgar Pendley of Haute Iron Co. and the Darsino cousins from GReKo Greek Street Food.
Part of the NGK F1 Series Powerboat Championship circuit, this speed boat race is a fun and free event for the whole family. Hang out by the Cumberland River and watch these boats race in a 3-mile loop around the river.
Hosted at Little Harpeth, one of Nashville's best local breweries, tickets to this festival gets you 4 beer tickets, 2 lbs. of crawfish, and access to some great live musical acts.
A two day celebration of the LGBTQ+ community in Middle Tennessee, the Pride Fest will feature multiple music and drag shows at Public Square Park, right in front of City Hall. Attend the Equality Walk on the 23rd and then go to any number of the fun events throughout the day.
The first of what's to be an annual event, the Great Slider Showdown gathers 10 southern chefs cooking sliders and competing for some fantastic prizes. You can either get GA tickets to get up to eight sliders, or shell out a few extra bucks for VIP tickets, which gets you TWELVE sliders and two drink tickets that can be used on craft beer or cocktails from Buffalo Trace and Eli Mason. Celebrity chef (and one of my personal heroes) Alton Brown will be one of the judges! There's a very strong chance you will see me there, devouring sliders and desperately trying to get a picture with Alton.
Share this article
Mike Wargo is a food, drink, and travel writer based out of Nashville, TN. Born and raised in South Bend, IN, he relocated to Nashville after graduating Ball State University in 2016. He likes expensive whiskey, cheap food, and the Whiskey, Ink, and Lace warehouse cat, Basil.
You May Also Like